Pollutants, dust, dander, pollen, smoke and even pathogens such as mold, viruses ad bacteria all can be suspended in the air you breathe, even when you don't see them. An iWave air purifier installs in your air conditioning system to help clean the air in your living space. When air passes over the iWave, ions produced by the device reduce pathogens and other airborne particles, creating a healthy environment without producing any harmful byproducts.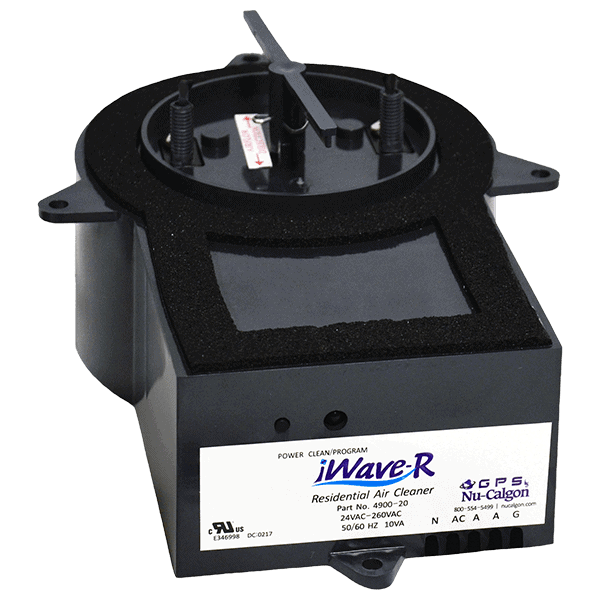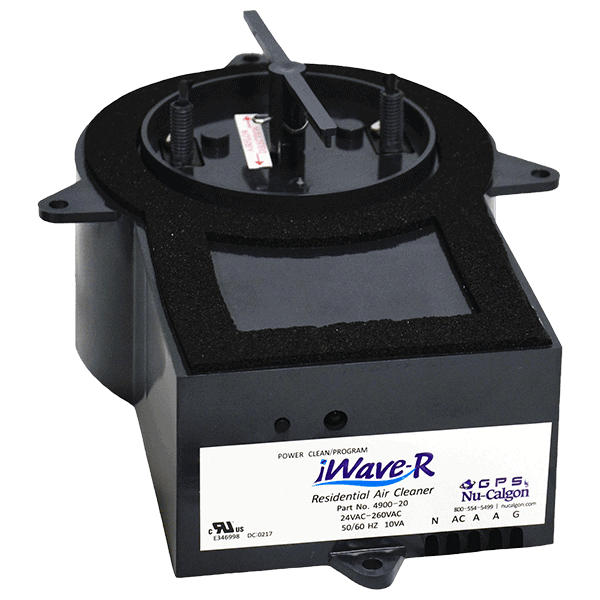 iWave-R Air Cleaner

iWave-R treats the air in any brand of residential duct air conditioning systems up to 6 tons (2400 CFM) in size with no maintenance and no replacement parts. Designed for universal mounting, the iWave-R typically installs inside or outside of duct, or it attaches magnetically near the indoor fan in the air handler. iWave-R always works at peak performance, producing over 160 million ions/cc per polarity (320 million total ions/cc), more than any other ionizer product on the market. Its patented self-cleaning design includes a programmable cleaning cycle that can clean the emitter brushes every 1, 3, 5, or 10 days. The iWave-R is factory set to clean every third day, which is adequate for a typical installation.
Patented self-cleaning design ensures ongoing peak performance
Needle point bi-polar ionization actively treats air in the living space
For duct systems up to 6 tons (2400 CFM)
Universal voltage input – 24VAC to 240VAC!
Universal mounting with magnets
Flexible design with no replacement parts
Kills mold, bacteria, and viruses
Reduces allergens, odors, smoke, static electricity and other airborne particles
Keeps coil cleaner
Programmable cleaning cycle
Alarm contact option for secondary notification
UL and cUL approved
Three-year warranty*


Live in balance with smart thermostats that harmonize energy savings and home comfort. All ecobee thermostats are thoughtfully designed with features that bring you comfort at home and control from anywhere.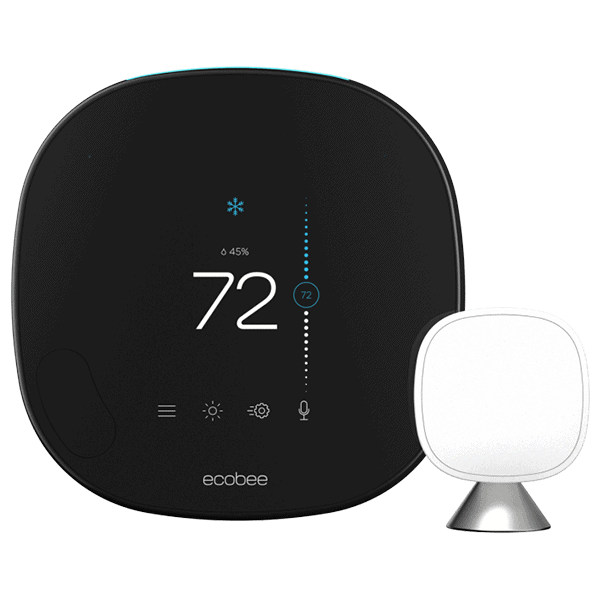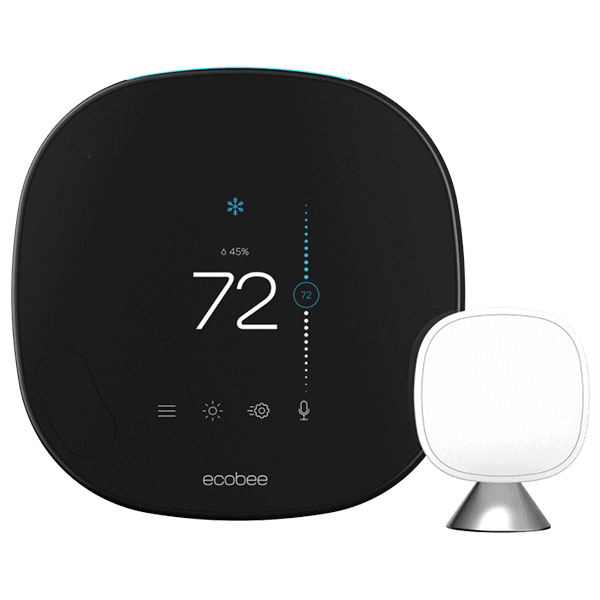 Ecobee SmartThermostat with Voice Control
Live comfortably, save automatically.
Experience enhanced comfort, increased savings, and advanced control with SmartThermostat with voice control and included SmartSensor ($50 value).
SmartSensor included for enhanced comfort.
SmartSensor keeps you comfortable where you are, not just where your thermostat is. Simply place SmartSensor in the bedroom, office, or child's room for total comfort and control.
Occupancy detection manages temperature automatically.
Helps balance your home's temperature.
Control straight from the app or your smart home assistant.
Features
Save up to 26%* on annual energy costs
Included SmartSensor extends comfort to your most important rooms
Comes with Siri and Alexa Built-in for hands-free control, your way
ENERGY STAR® certified
Control from anywhere with your iOS or Android device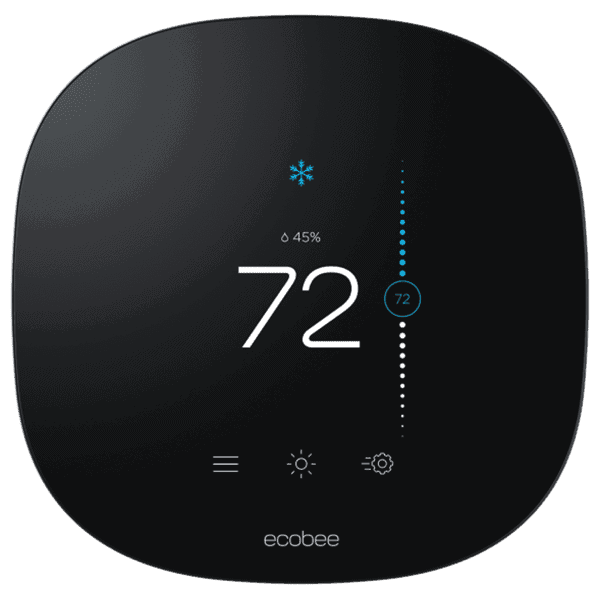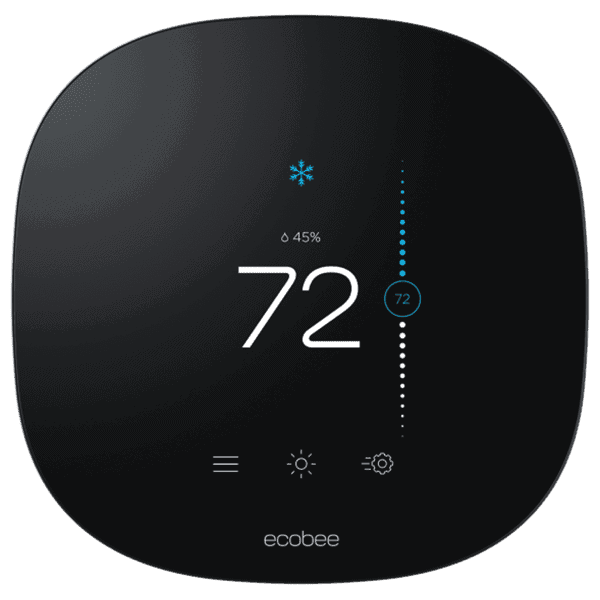 Ecobee3 Lite Thermostat
Designed for Smarter Savings and Control.
Equipped with the essential features to start saving you up to 23%* annually on heating and cooling. Connect to SmartSensor (sold separately) for better comfort in the rooms that matter most.
Works in harmony with leading smart home ecosystems including Apple HomeKit.
ecobee thermostats work seamlessly with Apple HomeKit on all iOS devices including Apple Watch, and leading smart home ecosystems including the Google Assistant.
Get comfortable with saving.

ecobee3 lite heats and cools more efficiently over time by factoring in weather patterns and HVAC system performance. Plus, monthly energy reports show how much you saved and how to save even more.
Features

ENERGY STAR® certified
Save up to 23%* on annual energy costs
Control from anywhere on iOS and Android
Apple HomeKit + more integrations
Compatible with SmartSensor


Trap dust and allergens, regulate humidity, and keep the whole house fresh. Fill your home – your sanctuary – with crisp, fresher, clearer air.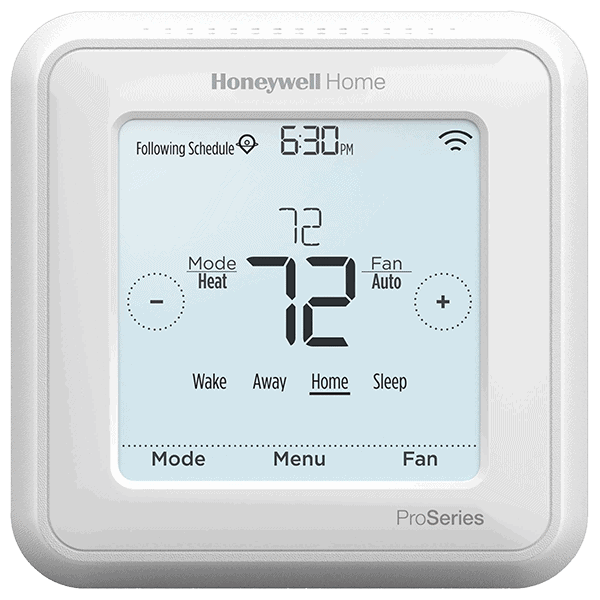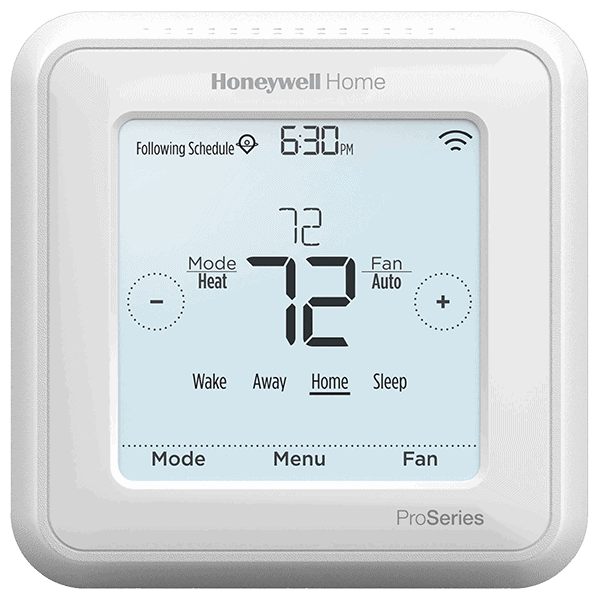 Honeywell T6 Pro Smart Thermostat

Connected, simple and smart, the T6 Smart Thermostat is ENERGY STAR® certified and adapts to your lifestyle. It can learn your preferred comfort levels over time and heats or cools on schedule. If plans change, it's easy to adjust your home's temperature from any of your connected devices.
This WiFi thermostat allows you to enable geofencing to help save energy while you're away. Your Resideo Pro will install the T6 and help you enable your preferred settings and create your home comfort schedule.
Connect and control your in-home devices from anywhere, anytime, on any mobile device with the Honeywell Home app. With the app, you can control lights, locks, cameras, thermostats and more, receive alerts when a smart home device is triggered, and review a complete history of system events.
Features

Thermostat Type: Programmable, Digital, Low Voltage, WiFi
Utility Rewards
Stages: Up to 2 Heat/1 Cool Heat Pump Systems, Up to 2 Heat/2 Cool Conventional Systems
Program Modes: 5-1-1 Programmable, 5-2 Programmable, 7-Day Programmable, Geofencing, Manual / Not Programmed
Control Functions: Heating, Cooling
Fan Function: Cycled, Continuous
Alerts and Reminders: High Indoor Temperature, Low Indoor Temperature, Sensor Error, Heat Pump Error, AC Power Resumed, Vent Core, Vent Filter, UV Bulb 1, UV Bulb 2, Filter Change 1, Filter Change 2, Humidifier Pad (through app), Humidifier Clean Tank, WiFi No Internet
Display Type: Touch Screen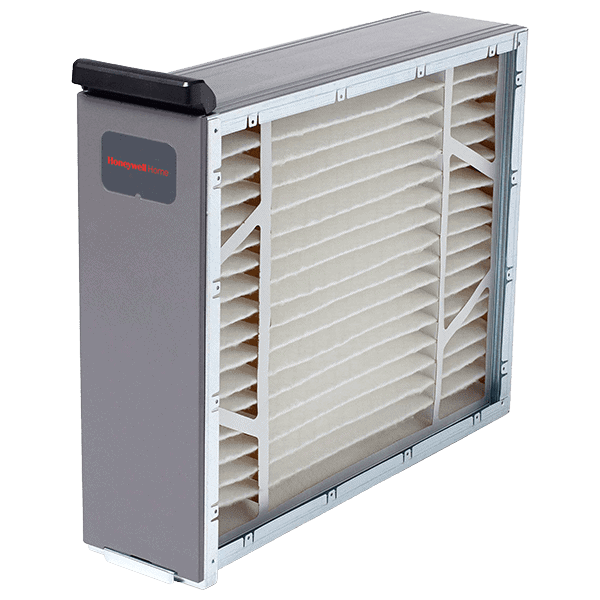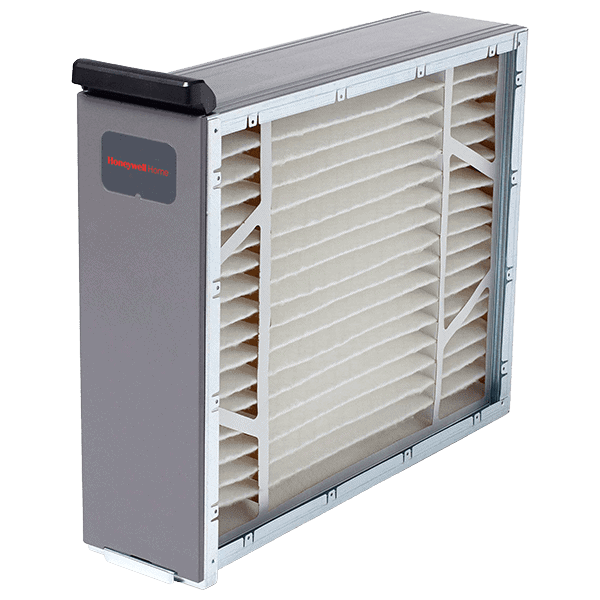 Honeywell Media Air Filter
This media air cleaner protects your family's health by cleaning the air that you breathe. It removes airborne dust, pollens, and other contaminants while maintaining high air flow so your system can function at full efficiency.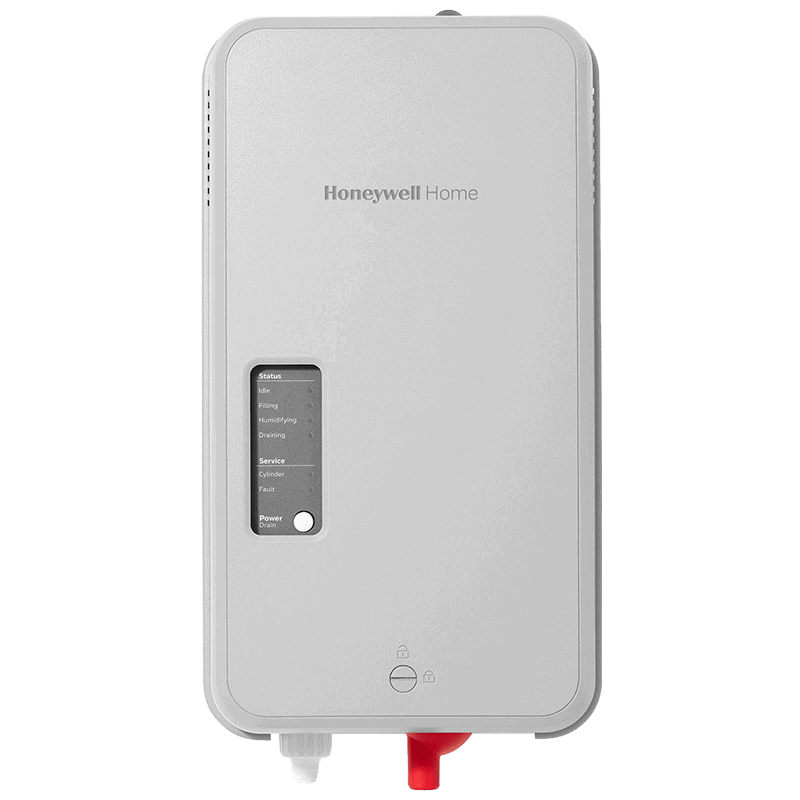 Honeywell HM750 Advanced Electrode Humidifier 
When the air in a house is dry, its structure, furnishings, and inhabitants can experience irritating effects, from itchy skin to cracked woodwork. The HM750 Advanced Electrode Humidifier uses steam to disperse humidity throughout the home for a more comfortable living environment.
One of the smallest steam humidification products on the market, the HM750 is more effective than traditional evaporative humidifiers and delivers on-demand humidification quickly and consistently without any noise.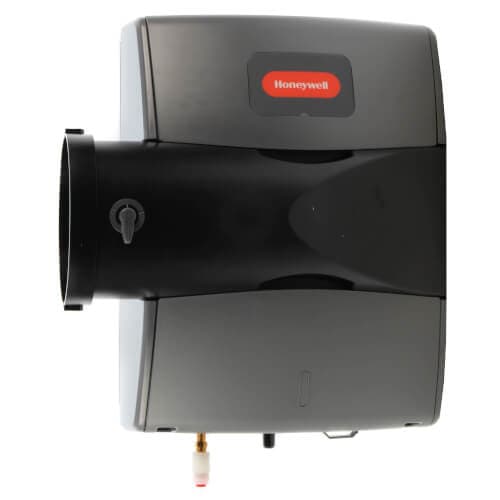 Honeywell Humidifier
This humidifier eliminates maintenance hassles with easy-access pads and will save energy by eliminating the constant cycling of air. This humidifier will deliver comfort throughout your entire home using your central system.


Safeguard HVAC units, appliances and commercial equipment from damaging power surge events with our hardwired surge protective devices. Simple to install, these solutions offer lasting protection in a variety of residential, commercial and industrial applications.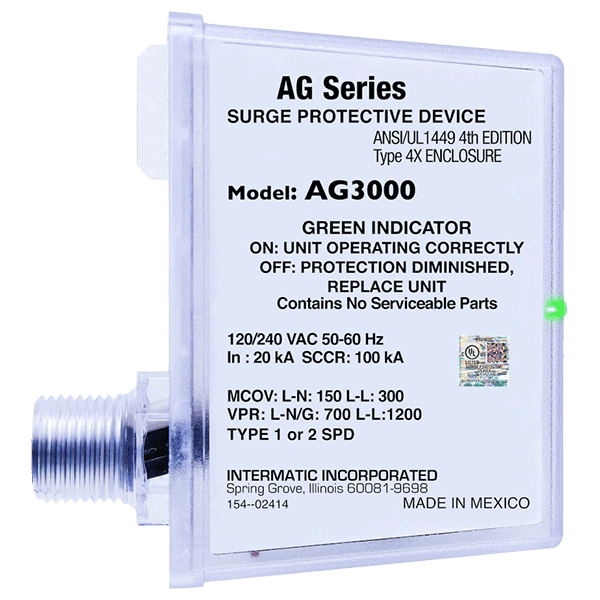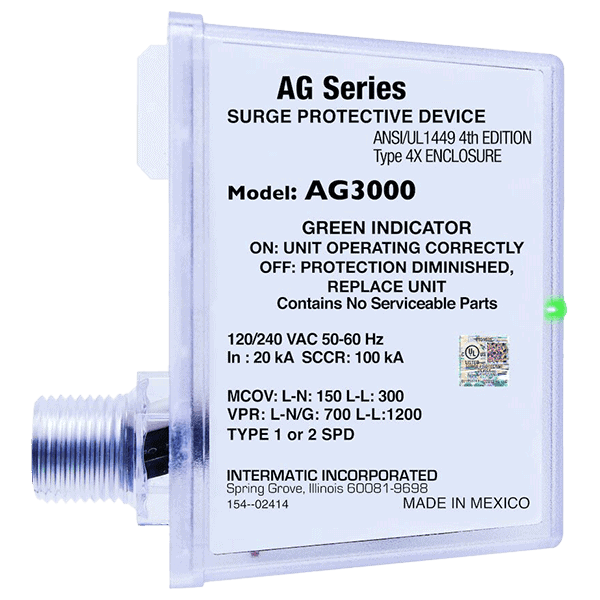 Intermatic® AG3000 Surge Protective Device
3-MODE, 120/240 VAC 1PH, TYPE 1 OR TYPE 2, OUTDOOR, CONNECTED EQUIPMENT WARRANTY 3YR $7,500
Power surges are the silent killer for home appliances and HVAC equipment. Most homeowners protect their electronics, but leave more valued equipment unprotected. Surges can wipe out equipment and leave you searching for answers. Search no more. The easy-to-install AG3000 Surge Protective Device (SPD) is the perfect add-on for HVAC equipment. A green LED indicator provides the status of protection. Trusted, state-of-the-art TPMOV® (Thermally Protected Metal Oxide Varistor) technology eliminates the potentially hazardous failure modes that are commonly associated with standard MOV technology. UL Listed to ANSI/UL 1449, 4th Edition.
Features
Three modes of protection: L-G, L-L, L-N
TPMOV® surge protection technology
Green LED indicator provides status of protection
Type 4X watertight and UV resistant plastic enclosure
3-year product warranty
$7,500 connected equipment warranty for 3 years
UL Listed to ANSI/UL 1449 4th edition


We believe everyone deserves Healthy Air. Aprilaire combined with a healthy lifestyle can help reduce stress, enhance creativity, increase clarity of thought, prevent illness, expedite healing, and improve your well-being.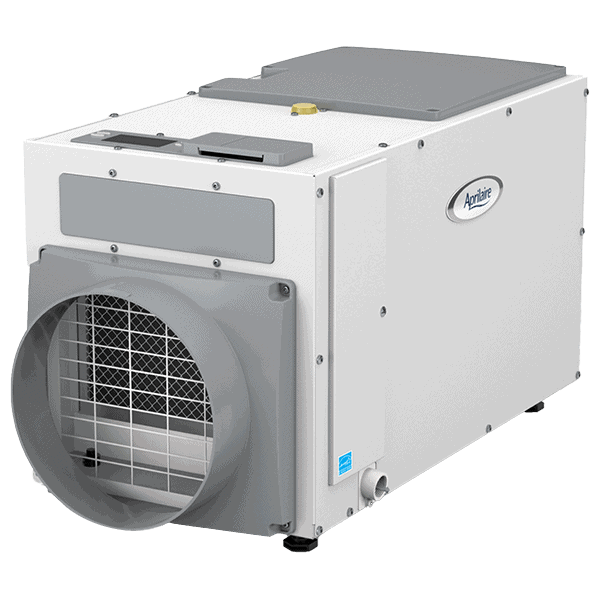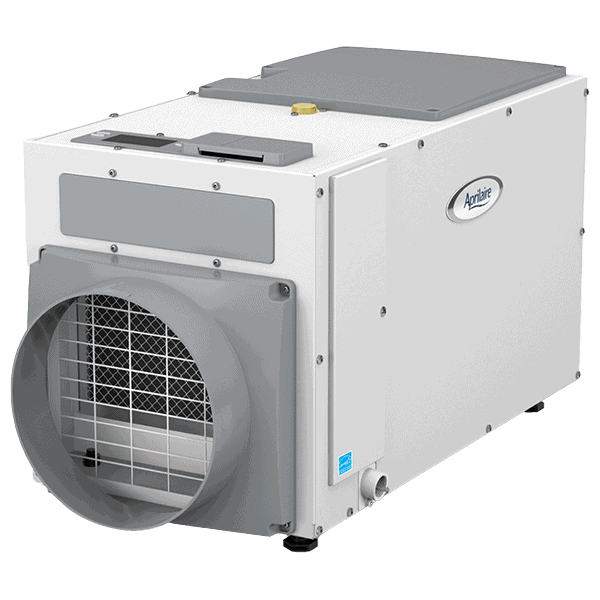 Aprilaire E080 80 Pint Professional-Grade Dehumidifier

Part of our e-series line of dehumidifiers, the Aprilaire E080 is one of our most energy-efficient models to date. Recognized as the Most Efficient of ENERGY STAR® 2021, it is ideal for dehumidifying your basement, sealed crawl space, or whole home. The E080 removes up to 80 pints (10 gallons) of moisture from the air per day. This helps keep your home's humidity in the ideal range of 40-60% relative humidity to fight viruses, bacteria, mold, and other airborne pollutants.
For your convenience, the built-in digital control can be configured on the top or on the inlet side of the unit for easy access. Its interface makes setup and operation quick and easy. The dehumidifier has a simple-to-use interactive display making setup and operation a breeze.
Designed and manufactured in the U.S., the Aprilaire E080 is backed by a 5-year warranty. Aprilaire continues to improve the quality of its dehumidifiers with corrosion-resistant aluminum coils, quality manufacturing processes to prevent leaks, and secure packaging for damage-free shipment.
Features

Recognized as the Most Efficient of ENERGY STAR® 2021
REMOVES up to 80 PINTS (10 gallons) of moisture per day
REDUCE PROLIFERATION OF AIRBORNE VIRUSES
BUILT TO LAST with corrosion-resistant aluminum coils in the U.S.A. by Aprilaire, the leader in indoor air quality solutions
HELPS PREVENT MOLD, TERMITES, STRUCTURAL WOOD ROT, AND ODORS
NO MESSY WATER TRAY TO EMPTY and simple to set up - just place the hose or place dehumidifier over a drain, level it, plug it in, set the target humidity and you're done
SET IT AND FORGET IT control automatically starts dehumidification when humidity above target is sensed
Wet Switch Flood Detector
The Wet Switch helps prevent flooding, damage to carpets, walls, furniture, ceilings, etc. It turns the system off when moisture from condensation or drain leaks is detected.
Need HVAC Service?
Contact the experts at All Seasons Heating & Air Conditioning.
Call us at 828-651-9998!