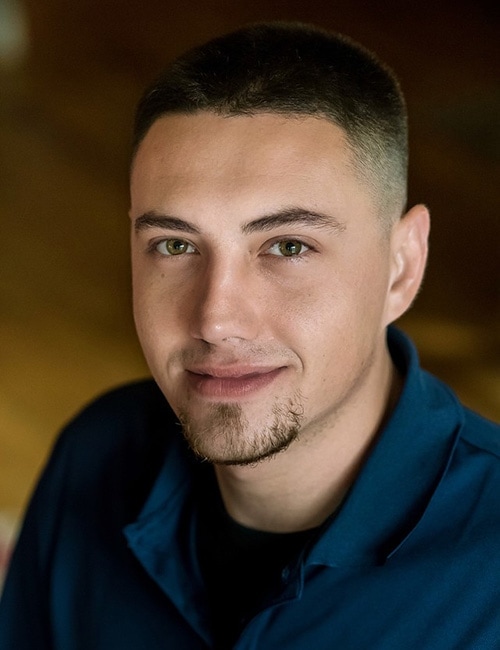 Aran
General Manager
66 Reviews
"I work my hardest to learn leadership, and teach work ethic and quality. I strive for excellence in all that I do and help to grow the company and become more successful."
Air Conditioner Maintenance in Asheville, NC 28804
"Aran was so polite and friendly. He answered all my questions patiently and displayed knowledgeable professionalism. I will be referring him and this company to everyone I know, and look forward to working with them in the future."
- Jessica S.
Gas Furnace Maintenance in Fairview, NC 28730
"On time, friendly and very knowledgeable technician!"
- Troy C.
Gas Furnace Maintenance in Fairview, NC 28730
"On time, friendly and very knowledgeable technician!"
- Troy C.
Gas Furnace Repair in Fletcher, NC 28732
"Aran and Cody made the repair in a competent and timely manner."
- Cindy L.
Heat Pump Repair in Asheville, NC 28801
"I have a rental house and the first day the new tenant was there the heat went out. Aran came right away and fixed the problem. He was helpful in explaining what was wrong and future problems I may encounter. I am very satisfied with the service. Thank you."
- Jaan F.
Heat Pump Repair in Arden, NC 28704
"Aran was such a pleasure to work with. On Christmas Eve we weren't sure we'd be getting anyone to come out and help us with our loss of heat, but shortly after contacting their emergency line, I received a call back and not long after that a visit to the house. The entire interaction from start to finish was professional and thorough. Very appreciative! Aran is incredibly kind and knowledgeable."
- Darcie B.
Heat Pump Replacement in Fairview, NC 28730
"From the first time my old heat pump started acting up, until All Seasons replaced it with a new one (Bosch) the experiences I have had with everyone associated with All Seasons Heating and Air Conditioning has been nothing but great. Every one that works for this organization have to be the most pleasant people in the world. They came out several times to see what problems I was having with my old unit and this last visit they had with that one they determined that it would be more beneficial for me to invest in a new unit mainly due to the age and cost of maintaining it and/or keeping it running. So today they came took my old unit out and installed a new one. More better, as far a cost to run, efficiency, and noise lever when it is running. Great company and employees to match, I Highly recommend this company to anyone that is considering repair, replacement, or a new installation."
- David B.
Heat Pump Repair in Fairview, NC 28730-6610
"Aran was prompt, friendly, explained everything so I could understand & answered all my questions! I would recommend Aran & All Seasons to everyone!"
- Michelle B.
Heat Pump Replacement in Asheville, NC 28803
"Reacted quickly to my emergency. Quick, accurate and very reasonable quote. Unit was ordered and arrived quickly. Installation was on time and very professional. Start up and clean up or excellent. you won't regret working with this team."
- Jim K.
Air Conditioner Repair in Fletcher, NC 28732
"Aran was friendly, polite and professional. While I wasn't happy that my AC wasn't working well, Aran evaluated the problem, explained what's happening, showed pictures, then explained the possible scenarios to fix my issue and gave me a very comfortable feeling of that I was dealing with the right company."
- Jim D.
Need HVAC Service?
Contact the experts at All Seasons Heating & Air Conditioning.
Call us at 828-651-9998!