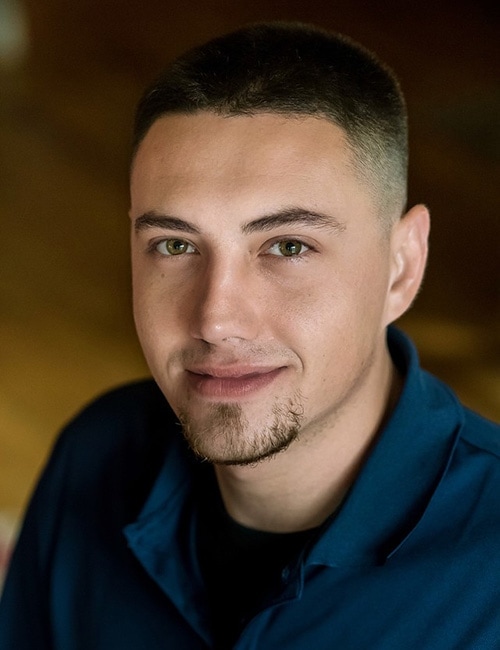 Aran
Service Tech
32 Reviews
"I work my hardest to learn leadership, and teach work ethic and quality. I strive for excellence in all that I do and help to grow the company and become more successful."
Ecobee Smart Thermostat Installation in Asheville, NC 28803
"After two rescheduled installation appointments, Aran from All Seasons arrived. Within 30 minutes, he had it installed and demonstrated how to use it. I'm extremely happy with the thermostat and Aaron's expertise."
- Betty F.
Gas Furnace Maintenance in Asheville, NC 28786
"Aran was very pleasant and knowledgeable with everything I asked
Awesome 👌CUSTOMER SERVICE!"
- Bryan A.
Heat Pump Installation in Candler, NC 28715
"Zach and Billy handled the install of my heat pump. They did a great job and were very friendly and answered all my questions without a problem. Aran has been to my house a couple times, highly recommended and knowledgeable about my heat pump and oil furnace. Aran was very patient with me and working with my oil furnace. I had a chance to meet Morgan as well. Very satisfied with there service and I would highly recommend this company to anyone."
- Michael L.
Gas Furnace Repair in Fletcher, NC 28732
"All Seasons has always done an excellent and professional job for me on all of my properties. They are one of the best HVAC companies in the area. I highly recommend them."
- Darrell E.
Boiler Maintenance in Hendersonville, NC 28792
"I am very pleased with service from All Seasons. They always do exceptional work with friendly employees."
- Audrey S.
Maintenance in Flat Rock, NC 28731
"As usual, All Seasons showed up on time and performed our semi-annual maintenance in a professional manner. The area where the men worked was left in a neat and orderly situation; we have no significant concerns with their quality service to our equipment."
- David J.
Heat Pump Repair in Arden, NC 28704
"Needed help with our new home (warranty call…). Aran came and hooked us up. Professional attitude and very competent. Got on it, told me what the issue was, and corrected it. This guy is a pro. Ask for him."
- William & Debra J.
Heat Pump Maintenance in Fletcher, NC 28732
"Aran always goes above and beyond! Always appreciate the great service and positive attitude! Thanks!"
- Steve K.
Air Conditioner Repair in Asheville, NC 28805
"Aran came as a second opinion for my AC repair. I had been told by the previous AC repairman that the unit was in need of total replacement due to an unexplained electrical happening. My replacement would be $5200. Aran diagnosed the problem quickly & my AC was up & running in no time.
Never take the referral from your home maintenance contract. SPECIFICALLY, ask for All Seasons; you will be glad you did. And so will your pocketbook."
- Larry D.
Air Conditioner Repair in Asheville, NC 28704
"I called one evening after hours when we realized our AC wasn't working well. It's the middle of summer, so I expected they'd be slammed & not even be able to come to look at it for days, but Aran was out to check on it the very next day! He did a great job of diagnosing the problem with our air conditioner, working with Trane (it was still under warranty) to get a replacement part, & came & repaired it. He also educated us on all the heating & cooling systems in our new-to-us home so that we can take care of them & replace filters appropriately."
- Daniella H.
Need HVAC Service?
Contact the experts at All Seasons Heating & Air Conditioning.
Call us at 828-651-9998!